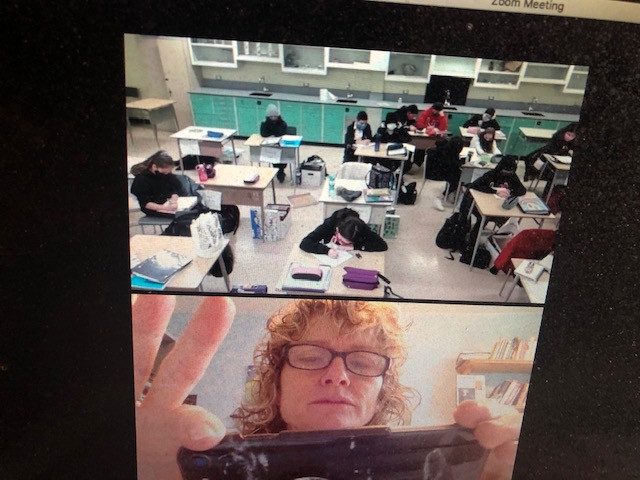 What I love about today's pic is that it depicts WRITERS WRITING. Which is exactly what writers need to do to keep their writing muscles limber!
Even though I've been teaching my own students at Marianopolis College on-line since August, this was the first time I had students do a writing exercise while we were "Zooming." And it worked! Yay to Ms. Milea's Grade Seven English class for helping me with this experiment. And I just want to mention that Ms. Milea told us she's been working on a final paper for a university course she is taking, and last night, her professor told Ms. Milea and the other students about how she (the professor) once had to rewrite a paper at the very last minute. See, that story goes to show that WE ALL HAVE TO REWRITE. There is, I think, no good writing that has not been rewritten a lot!!
Back to today's writing exercise -- I asked Ms. Milea's students to remember the most challenging moment they have had since the pandemic began. I warned them that doing this memory exercise could be painful, but that we writers try not to be afraid of pain -- because it can often lead us to the heart of a story. Then I did a little bit of abracadabra stuff to activate the students' memories. I think my abracadabra also worked!
Once the writing portion of our workshop was over, a few brave students shared their work with their classmates, Ms. Milea and me. And I got permission to share a few examples here.
Lilly wrote about having a meltdown when she was trying to do her homework. She wrote, "I started to cry. My dad started to yell." Then Lilly went to hide in the bathroom. "The floor," she wrote, "was cold." Ohhh, do I ever love that story. I love it because it's honest and it's as if I can feel the cold bathroom floor too. Now that's a sign of good writing!
Gypsy's piece took the form of a conversation between parents who disagree about how much information to give their kids about the pandemic. In Gypsy's dialogue, the mom says, "You're overstressing them. They're too young to know!" Excellent dialogue, Gypsy. I bet a lot of parents around the world have been having similar conversations. I suggested Gypsy add some sensory detail. Did the parents raise their voices? Perhaps the walls shook or the cat ran under the couch! Little interesting details would make this dialogue come even more to life.
Julia-Rose wrote about her pandemic birthday and how she missed her friends: "The pandemic had locked me away from them." I love the use of the words "locked me away." Powerful and poetic! I think pandemic birthday stories are super interesting. If your birthday was between March and December, you have a pandemic birthday to write about too!
I'll be back at Laval Junior Academy next Tuesday for my last of four writing workshops. I'm already looking forward to hearing or reading hte students' stories. Great work, guys! And thanks, Ms. Milea, who knows how to get great work out of her students!