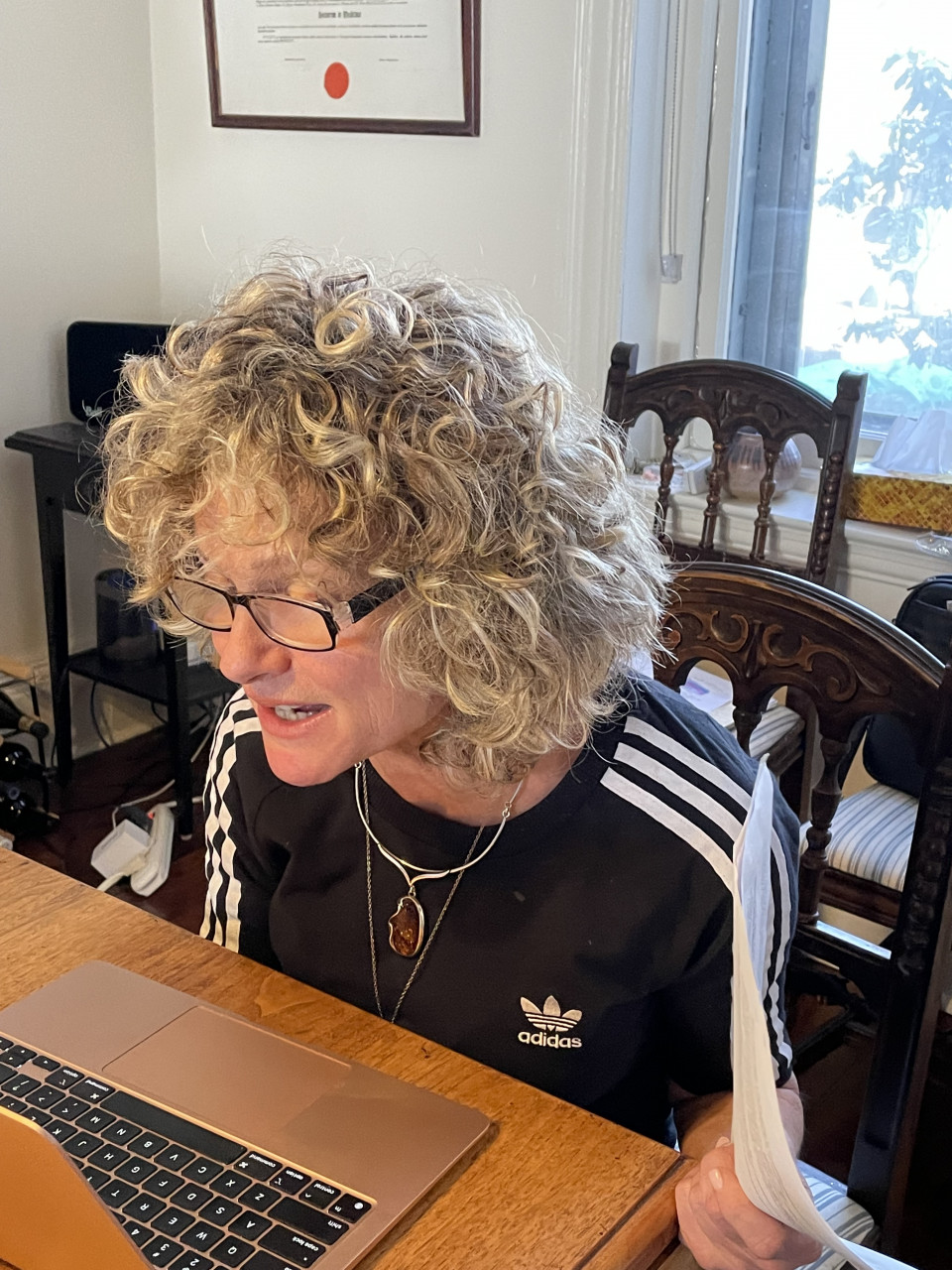 Ever have one of those wonderful days that feels like it all happened in about five minutes? That's what my today felt like. It was Montreal's fifth annual YAFest and there were over 40 YA authors taking part. Lucky me, I got to do the closing keynote. (That's what I'm doing in today's pic. The festival was virtual, which is why I'm at our dining room table.)
I took a TON OF NOTES!! So for today's blog entry, I'm going to share a little of what I learned. Gavriel Savit, author of Anna and the Swallow Man, did the opening keynote. He told us, "Honor the kid you were who picked up the book not because he had to." He also told us he took up writing when he was working answering the phone at a Mexican restaurant in New York. Savit said, "I made up stories to pass the time."
I taught a writing workshop with J.F. Dubeau, author of A God in the Shed. I showed participants in my workshop how to turn a memory into a story. Dubeau taught his particpants about world-building. I loved when he said, "World-building is anything we're trying to construct for our readers' minds." In other words, it isn't only fantasy writers who build worlds; we all do!
Editor and former librarian Talya Pardo talked, among other things, about self-publishing. She observed, "Self-publishing is not going away. But it's important that the standards of publishing are not sacrificed." She told us about the three C's of editing: clarity, consistency and completeness.
Rob Kinew read from his first YA book, Walking in the Woods, and how he dedicated it to students at Pelican Falls First Nations High School in northern Ontario. This school was built on the site of a former residential school. Kinew told us that, "Elders often tell us, 'Walk in two worlds'" and that that wisdom helped inspire his novel.
There were loads of panels, including one I went to on activism, and another on LGBTQ+ voices. Caroline Van Rooyen, author of Any Girl, the story of a rape survivor who fights back after she encounters another survivor, told us, "I wrote a book to encourage action." Kristen Lee, author of Required Reading for the Disenfranchised Freshman, told us how her book grew out of the racism she experienced while attending a predominantly white university. Kekla Magoon, author of Revolution in Our Time, a non-fiction book about the Black Panther party, explained, "I want the reader to take away a sense of their own voice, their own power." YESSS!
Adib Khorram, the author of Kiss & Tell, pointed out something important, but obvious: "Queer people exist." Then he added, "I cannot conceive of not including queer characters in books. Why not write about being gay?" Julian Winters, author of Right Where I Left You, said something I plan never to forget: "No one story fits all of us."
I only wish I'd had a little more time to work with the teens who were in our writing workshop. Emma B stole my heart because her personal photo was of what I thought was a lizard -- only she told me in a message that the creature was a pangolin. Pangolins, as you may know, have been getting a lot of bad press lately! Grace's memory had to do with meeting a giant puppet on her tenth birthday. And Susan, one of the grown-up participants, also remembered her tenth birthday. Funny how that happens -- as if there can be surprising connections betweeen people's memories and stories -- even during a virtual writing workshop. And Caitlin needs to be a writer because she is from Australia and attends The School of Isolated and Distant Learning. If the name of her school isn't a book title, well I don't know what is!
Huge thanks to Barbara Whiston, children's librarian at the Jewish Public Library, for spearheading this year's YAFest. I know it was a ton of work, Barbara, but you have a way of making hard things seem easy!
Now I'm going to need to mull over the many things I learned and thought about today. Thanks to everyone for making seven hours feel like five minutes!