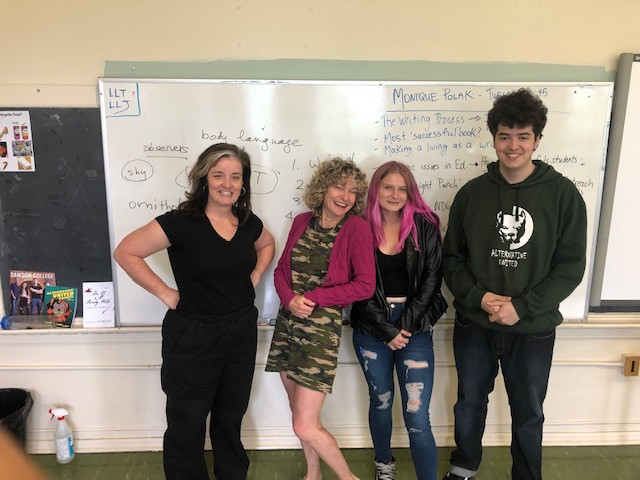 Helloo helloo blog readers! I spent part of this morning at Options High School here in Montreal. And as I said in the title of today's post, it's good to have OPTIONS! Options High School is an alternative school. In today's pic I'm with English teacher Natalie who's been studying my YA novel, Straight Punch, with her Sec V students. Two of the six or so students I worked with are in the pic too -- meet Shauna and Christian, both of whom have the writing bug! Yay for the writing bug!
Straight Punch is set at an alternative school, but as one of the students -- we'll use his alias only, Tate -- pointed out, the kids at Options know more about the kinds of kids who attend alternative schools than I do! That's why I told Tate he should go ahead and write a better book! And that he probably could!
Hey, one of the first people I met at Options was head teacher Paul Berry -- who told me his mum was Susyn Borer. That made me happy because Susyn and I have known each other for many years. In fact, she was the principal of Royalvale School, when my daughter started there in kindergarten -- more than thirty years ago! And I taught Paul's brother Michael. Anyway, those kind of intersections make me happy.
The first student who turned up in the classroom was Jamal. At first, I couldn't see his face because he was wearing a hoodie and not looking my way. But Natalie told me, "He's my favourite." The only problem with that is that I soon discovered that all of Natalie's students are her favourites!
We talked a little about shyness as a trait. Natalie had told me that Jamal only seems shy. But I loved how Jamal had this to say about himself: "I don't like it when all eyes are on me." I suggested he might work a variation of that line into the title of a novel. How about a book called All Eyes on Me? I do like the sound of that title.
I asked the students why they think I enjoy visiting alternative schools. Christian had a great answer. "There are more personalities here," he said. EXACTLY!
Shauna was super focused and attentive. She was the only female student in the class today. I suggested to Shauna that a first person story about being the only girl (or perhaps one of two) in a mostly boys' class at an alternative school would make fascinating reading. I had noticed Shauna on my way into the school -- mostly because I loved her magenta hair. (We discussed the right word for Shauna's hair colour. I said purple. Shauna said pink. I think it was Natalie who came up with magenta!). Anyway it wasn't until I put on my sweater for the pic that I realized I was wearing a magenta sweater today. Shauna, let's take that as a sign we were meant to meet, and you are meant to write your story!
I'll end with a funny moment. I told the kids I love words and stories. I taught them the word "obstreperous" which means "stubbornly resistant." So I nearly laughed out loud when a student named Daniel said to his neighbour, "Stop being obstreperous!" ... I think that means I taught the students a thing or two today.
So thanks to Natalie for the invite. Options students, if you think of more questions about Straight Punch, go ahead and post them here and I promise to answer ASAP.
I'm glad you guys have each other, that you have Natalie, and also that I had the chance to work with you today. Like I said, for some of you, your "thing" may not be reading or writing. But I hope for you that you all find your thing -- a creative outlet that brings you pleasure, even if it's hard work -- and that you hold onto it as you make your way in the world.
Happy summer! Take notes!
Signed, Monique