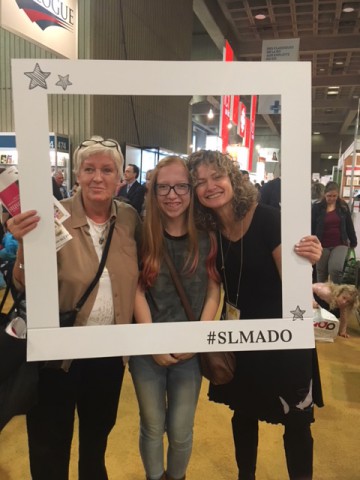 It's been a big weekend here in Montreal -- we've been celebrating the Salon du Livre. It's an event that brings together readers with authors, most of them French-speaking, but with a few like me, anglos whose books have been translated into French.
I was invited to join the team at Guy Saint-Jean Editeur, where I signed copies of my roman (that's French for novel) Béatrice. (It's the French language translation of my YA novel Scarred).
Okay, let me get to SOME STORIES.
In the first pic, I'm with Katherine and her grandmother, whom she calls Didi. They came from Repentigny to spend the day looking at books and meeting authors. Katherine, who's 14, told me she loves to read, but she isn't as keen about writing. I told her that if a person loves to read, she is halfway on the road to becoming an author. So here's a funny thing that happened -- Katherine handed me her pen when it was time for me to sign my book. I noticed it was a very nice pen and I liked the feel of it between my fingers. You don't know this about me, and don't be shocked, but I am a pen stealer! (I don't steal anything else, but well... pens... let's just say I often end the day with more pens that I started with!!) So I confessed this to Katherine and Didi, and Didi looked at Katherine and said, "Give the pen to her." You'll be glad to know that I refused. (I am trying to avoid a life of pen crime.) And I told Katherine: "Use that pen to start your book!" I'M HOPING SHE WILL!!
See that frame we're holding in the pic? It belongs to SophieLit. Here in Quebec, SophieLit is a phenomenon. She's also a real person -- a former high school teacher, now living in Belgium, who is perhaps Quebec's most important promoter of YA for teens (en français). Since moving to Belgium three years ago, Sophie has been training teachers and doing workshops with students -- all designed to get kids reading. I met SophieLit at Radio-Canada a few years ago, so I was happy to get a chance to catch up with her at the salon. Here's what she told me: "For adults, literature is too often almost sacred. It should be a part of our lives. They say adolescents don't read. But they do! We have to have confidence in teen readers. Start by asking them what interests them. What movies do you like? What kind of theater do you enjoy?"
In the next pic, I'm with someone very special to me -- my friend, the incredibly talented Quebecoise illustrator Genevieve Despres. I was hoping we'd cross paths at the salon. I was there on Friday, then again today. And just as I was leaving this afternoon, someone called my name and it was Geneviève. (That's why I look so happy in the next pic.)
Okay, today I want to say three cheers for: book salons; grandmothers who take their granddaughters to book salons; all the people who love books; and especially for friends who have met through books! Special thanks to the gang at Guy Saint-Jean Editeur for including me in your fun family!