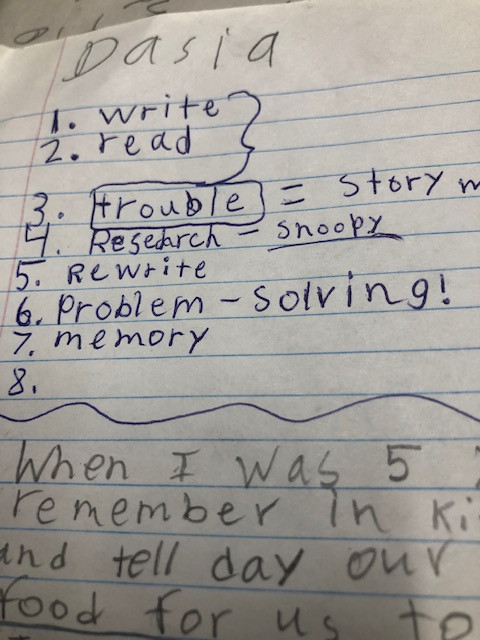 I have entitled today's blog entry "Blue Met Fest Visits St. Monica Elementary School." Only the whole TD-Blue Metropolis Children's Festival did not drop in at St. Monica Elementary School in NDG to do a writing workshop. I did!
Blue Met sent me to St. Monica so I could teach Ms. Woodward's Grade Three class how to be writers, and to discuss my Princess Angelica book series. They didn't sent me so that I would have fun. But that's actually what happened! (I hope the students learned a thing or two along the way!!) There is something amazing about teaching writing to eight and nine year olds -- that's because they don't worry about being good the way older students (and older people) do. These kids just wanted to hear stories, and most importantly, write their own!
Usually I post a pic of me with kids, but today I thought I'd change things up and post a pic of a student named Dasia's notes -- because they are spot-on. And because when I asked how she spells her name, Dasia told me: "A 'D' and then the continent!" I LOOOOVED that. How many kids (or adults) get to have a whole continent in their name?
You will notice that on Dasia's list, tip number three is TROUBLE. I explained to the kids that stories about people's perfect lives are BORING. Trouble is difficult in real life, but it's great for stories. I told the kids that if they've experienced trouble (even if they're only in Grade Three), they should USE IT in their stories. I compared it to having excellent ingredients for a recipe -- I even gave the example of having the most delicious lentils and mushrooms (I told the kids I wanted to give a vegetarian example). Which is how I learned that two of the students in Ms. Woodward's class -- Kennedy and Angelina -- are vegetarians!
The students were A-mazing participators. Kennedy told me, "I have three things to say: I have a neighbour named Monique. I'm working on a story. And did you say Mtelus?" (I have to explain the Mtelus thing. Mtelus is a concert venue here in Montreal. But I'd actually said "Blue Metropolis" -- which does kind of sound the same.) Angelina told me, "Every time I read, I make stories." That's how it works, Angelina! Great that you've got that figured out! And Kai told me something cool: "My mom really likes plants. Every time she gets a new plant, she writes a story about it!" Now that sounds like a great book! Kai, do you think your mom would let you help her with the book? You could try using some of the writing tips I shared with you guys today.
There was even time for a writing exercise. And I was deee-lighted to see the students understood my lesson about trouble. Dasia wrote about how in kindergarten, on "show and tell day, my teacher would bring food for us. But I would never eat what she brought. I don't like kiwi. But I would pretend that I liked it." Kennedy wrote about her fifth birthday party and the cupcakes "with all sorts of toppings of them." But then Kennedy remembered to add trouble! She added a memory about summer camp to her story: "I slipped on the monkey bars and fractured my wrist." Uh oh, bad news, but good story! Angelina wrote a beautiful piece about getting separated from her mom (I think they were at a park) -- I found Angelina's description super poetic: "I remember mushrooms, the smell was like spice and the feeling was like a soft big round thing." Hmm, Angelina, you sure give this reader a lot to think about! And that's pretty impressive for a writer who's in Grade Three!
So thanks to St. Monica Elementary for hosting me today, and to the TD-Blue Metropolis Children's Festival for making the visit happen. Thanks to teacher Mr. Trister for connecting me with Ms. Woodward; thanks to school principal Ms. Crigna for your support; thanks to Ms. Woodward for being fun and for sharing your kids with me this morning. But most of all, thanks to Ms. Woodward's students. You reminded me of why I love to write! Because like you guys, I just want to tell stories!