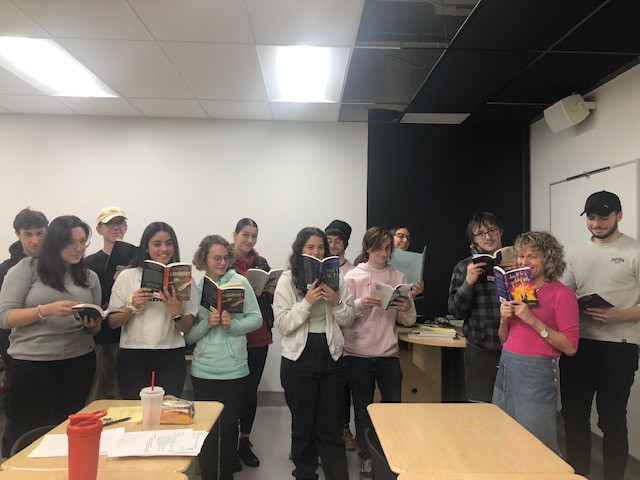 Today's #IReadCanadian Day and I celebrated it with students at Cégep de Saint-Jérôme. In today's pic, we are doing what Canadians are doing everywhere today -- reading from a Canadian kids' book!
I worked with two classes -- Ms. Dodwell's and later, Ms. Lavinia's. All the students were wonderful and attentive -- you guys made me miss being a CEGEP teacher!
I also did a writing "atélier" -- that was only for motivated students -- and there were quite a few of them.
Some highlights of my day -- a student named Angélique said she wants to research a fascinating, but disturbing family story. It turns out Angélique's grandmother was kidnapped when she was a young woman. That will be hard for your grandmother to talk about, Angélique, but I hope she will agree to do it.
A student named Roxana told me she really liked a line I quoted from writer Anais Nin who believed writers get to "live twice." As Roxana told me, "Maybe everyone gets a second life when we daydream." How beautiful!
I think however that the best part of my day was working with the atélier participants. They are working on stories for their teacher, Ms. Isatis. Vivianne is writing a wonderful piece about a schoolyard game. It turns out she was inspired, in part, by Shirley Jackson's short story, "The Lottery." I told Vivianne to get rid of adverbs, and I think we all liked her story more when she followed that suggestion. David and I worked a lot on his dialogue. I suggested he leave out anything boring -- that though a lot of real life dialogue is dull, in stories, dialogue needs to SING. And Oliver taught me a new word: JANKY. "It means," he explained, "something you find in a dumpster." All first drafts, I told the students, are JANKY. But when we rewrite, our work gets better and better.
Thanks to Ms. Dodwell for arranging today's visit. Thanks to the kids for being fantastique!