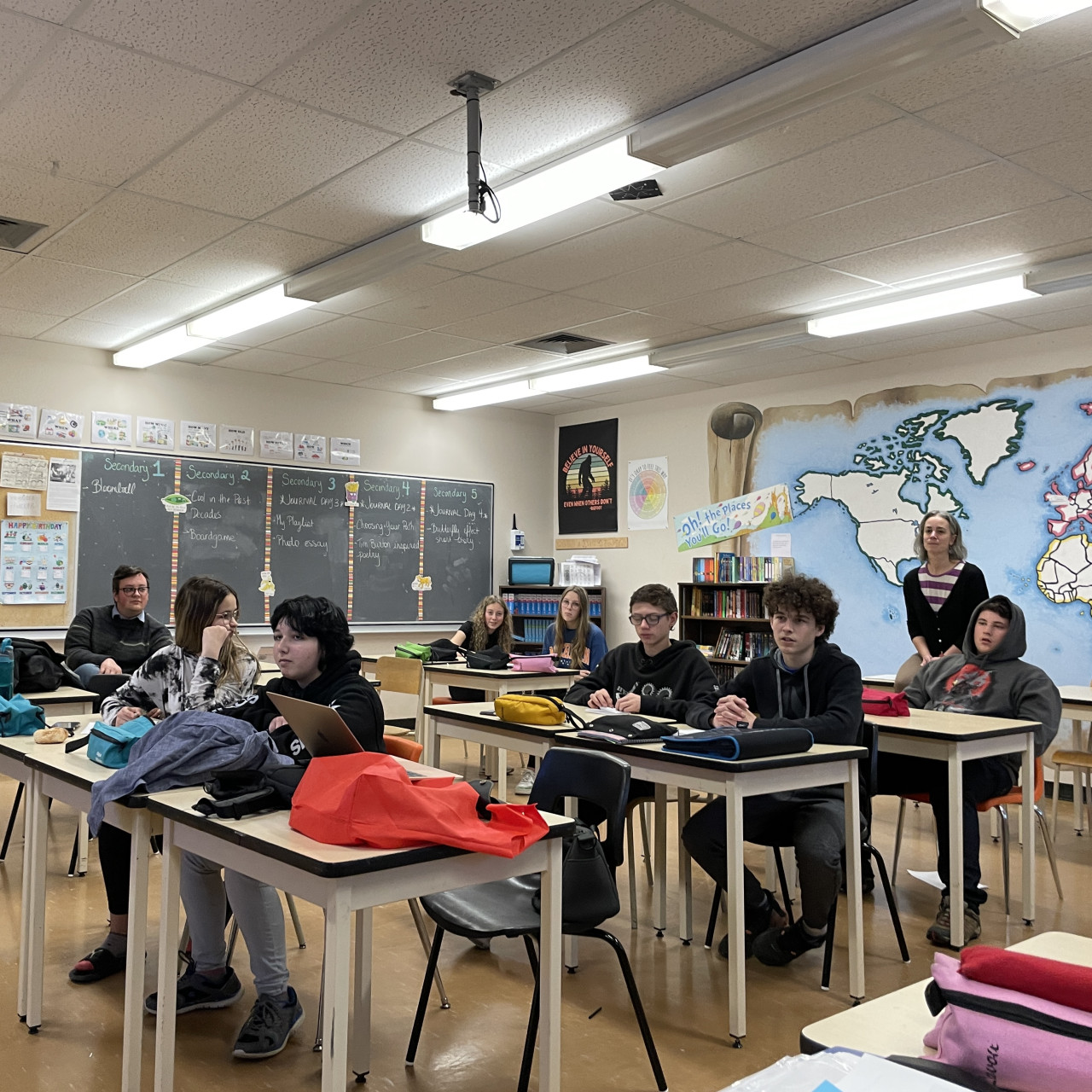 Today's blog entry comes to you from Chapais, a town in Quebec's James Bay region. Artist Thomas Kneubuhler and I are in Chapais for a Blue Metropolis Literary Foundation project called Quebec Roots. We have spent a day-and-a-half working with English teacher Gabrielle Chouinard's Secondary III class at Ecole Secondaire Le Filon – and I think we all fell a little bit in love with each other – and of course with writing and photography!! (That is Gabrielle and her class in today's pic.)
The students needed to choose a topic for their chapter, which will be published in spring 2023 in a real book! The class decided to explore the topic of "Nothing to Do/Lots to Do." That's because at first glance, you might think there isn't much to do in a remote town like Chapais, which has a population of 1,600 – and where one of the only restaurants is also a bar, so only people aged 18 and over can eat there!
But as the students showed us in their writing and photographs, there is actually plenty to do in Chapais. A student named Emmy Bélanger wrote a piece called "Liberty." In it, Emmy describes Chapais as "a town of liberty" where "everyone knows everyone." She also pointed out that there is no police precinct in Chapais; the nearest one is 41 kilometers away in the town of Chibougamau.
Océanne Dion wrote a beautiful poem about a tragic fire that took place in Chapais on January 1, 1980 and which claimed the lives of 48 people. Océanne's poem is narrated from the point of view of a woman whose son died in the fire. Océanne used dialogue to help bring her poem to life. Here are some of my favourite lines from the poem; "I shouted as loud as I could/ 'Get out! Get out! Denis! Please get out! Everyone, get out!' My cheeks were wet with tears." Powerful writing, don't you agree?
From Thomas, the students learned a ton about photography – about light and composition, and that every element in a photo matters. From me, they learned that good writing is a matter of REWRITING.
Thomas and I have visited many schools for the Quebec Roots project, but as we were saying to each other on our walk back to the hotel, we have rarely worked with students who were so open to learning and so happy to have us in their classroom. A student named Jacob told me he's come to an important decision. Are you ready for it?
I started a new paragraph to build suspense!
"I'm thinking," Jacob told me, "that I might like to be a writer and a photographer!"
Yay for our students at Ecole Secondaire Le Filon, yay for their teacher Gabrielle Chouinard, yay for Fréderick Gaudin-Laurin from the Blue Met team who is with us in Chapais… and yay to the Blue Metropolis Literary Foundation for coming up with the Quebec Roots project!