TD Canadian Children's Book Week officially kicks off on Monday, May 6 this year... but author-editor Sarah Harvey and I got an early unofficial start.
That's us in the pic below. Sarah, who works for Orca Book Publishers in Victoria, B.C., is touring Quebec for Book Week and I'm in the Yukon (I'm writing this entry from Whitehorse). But Sarah came to Montreal a few days early to visit our fair city, and to do a talk with me yesterday afternoon at Westmount High School -- our event was part of the Blue Metropolis Literary Festival.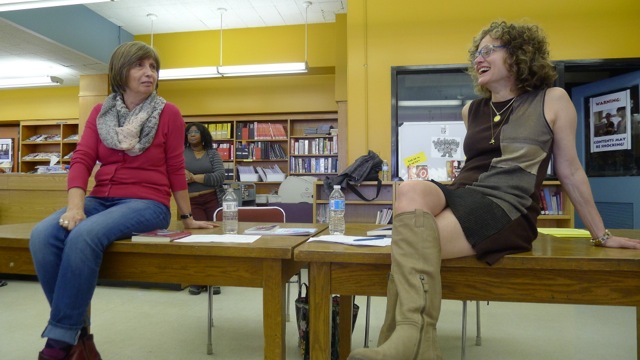 You will notice that in the pic, I've got a paper and pen near my knees... that's because I was taking notes for you, dear blog reader. Sarah has a great sense of humor and I wanted to be able to write down some of the smart, funny things she told the crowd. Speaking about her latest YA novel, Deadly, Sarah said, "Killing someone off is always awesome." Please note that she was referring to fictional murders only! One student asked us what our least favourite part of writing is, and Sarah answered, "Writing!" I also loved when Sarah told the students that though it is great to be published, "Just the sheer act of putting things down on paper means you have succeeded."
I think the students enjoyed getting to learn more about the publishing process -- how editors like Sarah work with authors like me, and how Sarah brings her editing know-how to her own novels.
Though I was eager to come to the Yukon, it was a little hard to leave my house in Montreal. That's partly because Sarah was staying with us -- and let's be honest, it's not every day an author gets to see her editor in her PJ's! Here's to Book Week, to stimulating conversations, old and new friendships, and inspiration!