All fall, graphic novelist Laurence Dionne and I have been working together with students at Père-Vimont School and Courtland Park International School on a Blue Metropolis Foundation project called The Mysterious Story of the Twins. We've visited each school three times, and the students (who have not yet met in person) are working together on shared stories.
What makes this project even more interesting is that it's bilingual. The Père-Vimont kids have been writing in English; the Coutland Park kids, in French. And they've all been studying a third language too: ART!
Here's a pic from today's visit: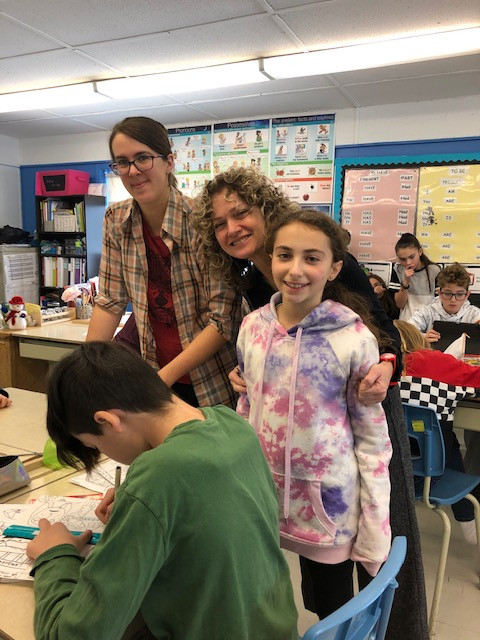 For many of the students, learning about drawing and in particular, illustrating a graphic novel, was their favourite part of the project. That's what Caleb and Majdouline told me today, during our final visit to Père-Vimont. Youssef learned a lot about drawing too, but you can imagine I was pleased when he said, "Writing makes me happy." Me too, Youssef!!
In their stories, the students have been writing and drawing about a pair of red-headed twins who get separated when they are infants. The twins grow up speaking different languages. When they meet up again, in the students' stories, things get interesting!
All the graphic novels the students have been working on will be published in a collection that will be released this spring. And there'll be a book launch too -- and you can come! As Leticia told me, "It was fun to write with kids from another school. We can't wait to meet them!"
Special thanks to Blue Met for making this project possible, and to the super teachers who made our visits a success, Miss Annie at Père-Vimont, and Monsieur Geoffrey at Courtland Park. Congrats and félicitations to all the students for your hard work -- and great ideas!