One of the highlights of my recent trip to the Yukon was meeting fellow author Lian Goodall.
Lian writes non-fiction for kids. Her books include Photographing Greatness: the Story of Karsh (Napoleon), and Singing Towards the Future: the Story of Portia White (Napoleon). Lian was born in St. Catharine's, Ontario, but has lived in Whitehorse since 2012. When she heard I'd be touring the Yukon for TD Canadian Children's Book Week she got in touch … and invited me for dinner. What neither of us could have expected is that we would become fast friends. Funny how that happens sometimes, isn't it?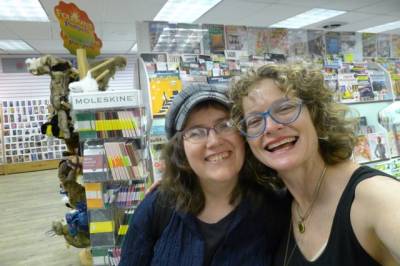 Lian has many of the qualities I look for in a friend: she's kind and fun and funny and smart. It also helped, of course, that we share a love for research and writing. I did not only have a delicious dinner at Lian's house, I also brought along my notepad so that I could do a little interview and report back to you, dear blog reader. Here is some of what I learned from Lian.
Lian has been interested in stories since she was a little kid. "I've been story-izing since I was two." Don't you like how she invented that word "story-izing"?
When I asked her why she thinks stories matter, Lian told me: "I think storytelling is a fundamentally human act." Lian has been researching the stories of real-life girls who were born and lived in the north – from Alaska to Greenland -- before 1900. After nearly four years of research, Lian recently began writing her first draft of the project. "Non-fiction is a long process," she said. "You have to keep knitting your books for years. You need patience and dedication."
Lian has found that there are hardly any books about young people born in the north. She's trying to fix that. "My goal," she told me, "is to give stories to kids who need these stories. Girls from the north need to read about themselves in an earlier time."
Lian has three kids, including a daughter who lives here in Montreal. I'm hoping that means I'll get to meet up with Lian soon so that we can continue our conversation – and our friendship. If not, I'll have to find my way back to the Yukon – and Lian!