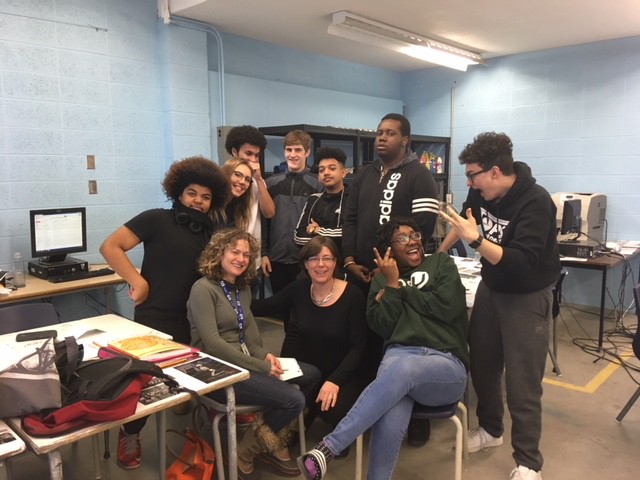 The Moniques are back in action! This morning, I was teamed up again with my pal, photographer and fellow Monique – Monique Dykstra. We're working together on this year's edition of an exciting Blue Metropolis Literary Foundation project called Quebec Roots: Strengthening Communities, the Place I Want to Be.
We were at Lasalle Community Comprehensive High School to work with Mr. Coderre's Phoenix class. These are Grade 11 students in an alternative program. As a student explained to us, "We don't run by the bell." Monique and I also observed that the students enter the school through the back door. (We figured this out when a student named Miguel turned up late – and everyone knew it was him because of his distinctive triple knock!)
It usually requires considerable discussion and debate before a group settles on a topic. But the topic came easily to the Phoenix students. They're going to write about the subject of ALTERNATIVES. I love this topic. What do you think?
When I told the students to pay attention to older people's stories, I said that perhaps some of the students find old people boring. A student named Himat shook his head. "My grandparents taught me everything," he explained. Himat's grandmother is dead, but his grandfather is alive and he and Himat are close. So I asked Himat whether he knows of any major "alternatives" (such as moments of major decisions) in his grandfather's life. Here's what Himat told me: "My grandfather took an alternative road. His family job was farming. But he and another one of his brothers went to the army. My grandfather was in the army for 23 years." Himat, I think you need to do some more RESEARCH, find out what it felt like for your grandfather to make that choice and how it affected the rest of his life – for good as well as bad.
I started the day with a mini writing workshop. We always save Monique Dykstra's "lesson" for last since, I hate to admit this, but the kids always seem to find it MORE FUN.
But I did manage to do a little extra writing work with a student named Nathaniel. He wrote about a decision he regretted – not visiting his grandmother (he called her mami) on the day she died. Nathaniel wrote a beautiful, moving piece, and I asked his permission to share two lines here. In the poem Nathaniel wrote, he described how his dad found mami's body a week after her death: "She was lying on the bathroom floor/ Her belly as bloated as if she was six months pregnant."
Those aren't easy lines to read. And they couldn't have been easy lines for Nathaniel to write. Yet, those words will remain with me, as I think they will with you, dear blog reader. That's the power of words, Nathaniel. May you, as you told me you hoped to do, continue to make your mami proud with your creativity and goodness.
Watch this blog for more news about how the students are using words and photographs to explore the topic of alternatives. Thanks to the Phoneix kids for being wonderful, to Mr. Coderre for being wonderful too, and to Blue Met for making this project possible.