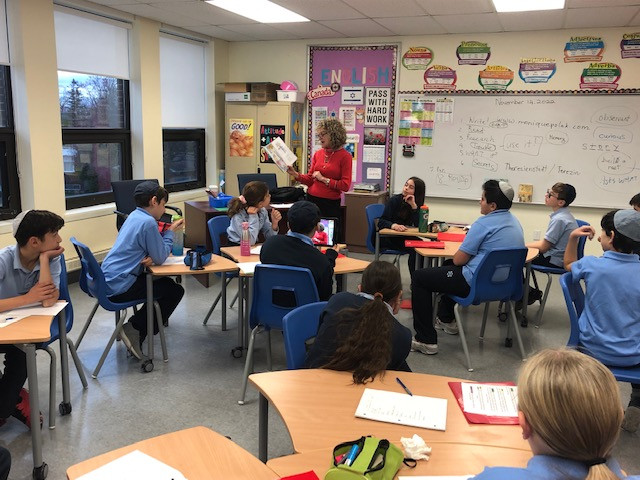 Did I ever have a happy afternoon at Hebrew Foundation School today! I was invited to the school in honour of Jewish Book Month. I worked with Mrs. Shapiro's and Mr. Cohen's grade six classes -- and were they ever smart!
We only had an hour together, but I got a lot done. I shared writing tips; I told the story of my monkey man charm; and I read the kids my new picture book, The Brass Charm. But best of all, the kids had AMAZING questions and comments.
Here are some of my favourites:
On the whiteboard, I wrote a list of writing tips. Number 1 was "Write!" and Number 3 was "Research." A student named Andy had a great question, "Shouldn't research come before writing?" Pretty smart observation, if you ask me! Though, being me, I had an answer. I explained to Andy that I was talking about the kind of free-writing I do every morning -- and I compared that to how a hockey player laces up his skates and gets out on the ice to practise. But Andy is right, when it comes to writing a book, it's more customary to research before you get started on the actual writing.
When I showed the students the journal I write in every morning, a student named Izzy had a great question too. She asked, "Can you read us some of them?" That cracked me up. Also, FYI, I answered, "No!"
When I told the students about my mum's childhood experience in a Nazi concentration camp, a student named Jeremy wanted to know, "Does your father have a story?" I found that a very mature and sensitive question. I explained that my father, who is only half-Jewish, was hidden on a farm in the Netherlands. But Jeremy is right, my dad does have a story, and since he's already 91, I had better start asking him more about his past ASAP! Thanks for the nudge, Jeremy!
I also explained that even after publishing a lot of books, writing is still hard for me. This prompted a student named Ariella to ask, "Why write if it's not enjoyable?" Another excellent question! I answered that I think I enjoy doing difficult things -- maybe that's what has kept me hooked on writing all these years.
I told the students that writers like to ask the "WHAT IF?" question -- that question gets our imaginatuions working. At the end of my talk, I explained I'm still hoping for a plot twist in my own story -- that I will somehow learn more about the woman who gave my mother the brass charm on May 24, 1943 -- nearly 80 years ago. To which, Mr. Cohen replied, "What if?!"
Thanks to Mrs. Shapiro for arranging my visit to HFS. Thanks to student council members Aiden and Olivia for meeting me downstairs, to Julia for introducing me, and to Alex and Matthew for your kind thank you at the end of my talk. Thanks to the members of the news and photography committee for the interview they did with me afterwards.
Oh, special shout out to my former student, the delightful Ms. Amanda Meltzer-Shapiro, who now works in communications at the school. You were my special joy of the day, Amanda.
And thanks to the students for impressing me with your intelligence and sensitivity. I feel super lucky to have met you all today. Now go read and write and continue to make all of us proud!