Ever have one of those mornings that goes so quickly, you don't know where it went? It could be that I had TWO espressos this morning, but it might also have been the influence of Mrs. Fraser's wonderful class at McCaig Elementary in Rosemere.
Artist Thomas Kneubuhler and I were back at McCaig for our second writing and photography workshop -- part of a wonderful Blue Metropolis Literary Foundation project called Quebec Roots. Teams of writers and photographers are helping students across the province tell stories about their communities using words and photos.
Speaking of which... here's a photo!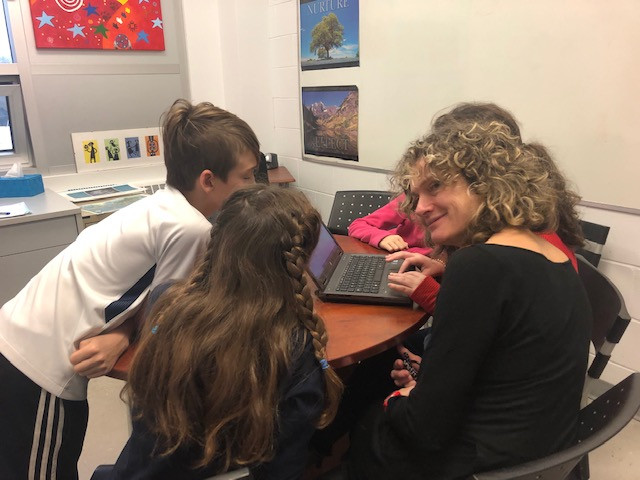 In today's pic I'm editing -- okay, I'm taking a wee break from editing to chat with a student ABOUT EDITING!
Thomas and I were at McCaig for three hours, and while Thomas looked at photos and took photos with the students, I pulled little groups out to another small room and we edited the pieces they had written on the topic of SECRET PLACES. (The students came up with that topic during our first visit earlier this fall.)
The thing about writing is that it INVOLVES A TON OF RE-WRITING. I've spent the last three weeks rewriitng a project of my own. I find it hard work, but it's so satisfying when the work starts to get better.
What made today extra fun is that the students were receptive to my comments, and that we really worked together in teams to improve the writing.
Here's a small example. Consider the following phrase "caramel in the center of a chocolate." Now do you prefer "gooey caramel in the center of a chocolate" or "caramel in the center of a delicious chocolate"?
I hope you picked "gooey caramel"!! Because we discussed all three options and decided that the word "gooey" goes a long way to describe caramel. Unlike the word "delicious," which is, as I told the students a "blah blah" word!
A student named Lily wrote a beautiful piece about feeling comforted and inspired by nature. She included the line, "Think of tulips standing strong and tall" ... I had a wee suggestion here. Why not add the word "proud"? Lily thought that worked, so we changed the line to, "Think of tulips standing strong and tall and proud." We could have dropped one of those "and's", but I like the rhythm. What do you think?
That's another thing about writing. There's never a clear right or wrong. But it's challenging and fun to figure out what works best and sounds best.
I asked a student named Michael to tell me what he learned about editing today, and he answered, "You need to reread it a lot of times!" That's for sure, Michael!
So keep your eyes peeled for the 2020 edition of Quebec Roots, a real-live published book which will be launched this spring, and which will include a chapter from Mrs. Fraser's class at McCaig. Thanks to all of you for being more delicious than espresso!