The Moniques -- in case you are not familiar with this fabulous team!! -- consist of myself and my good pal photographer Monique Dykstra.
We've been teamed up several times over the years to work on Quebec Roots, a Blue Metropolis Literary Foundation project that brings a writer and photographer to English-language schools across the province. We help students tell a story in words and photos about their community -- and their chapter will be published in sping 2020 in the form of a real-live book!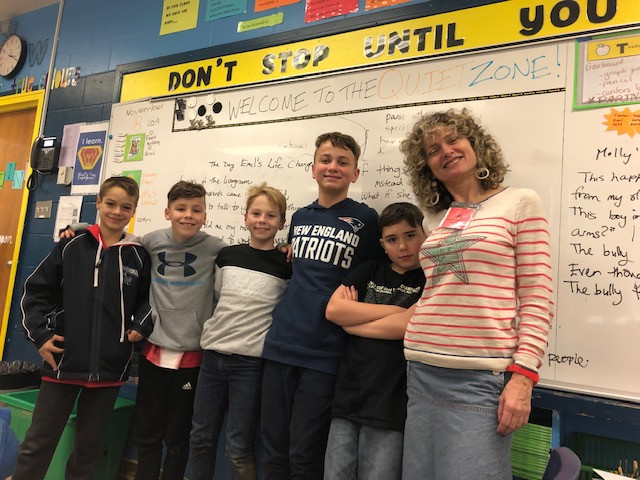 That's me in today's pic with some of the students at William Latter School in Chambly. Sorry you don't get to see the other Monique -- she was out in the schoolyard teaching the kids about photography. Apparently, after only one mini-lesson, they were already taking impressive shots!
We worked with Miss Kim's Grade 5/6 class. Miss Kim had done a great job preparing the students, who understood that today we had to decide on a topic for their chapter. We started off with two topics: emotional troubles, and finding your passion. To our surprise, as the result of the democratic process, the students chose to focus on emotional troubles -- definitely a tough topic that will require courage!
I had to laugh when a student named Amy guessed I was Monique-the-author. She told me, "I knew you were the author because Miss Kim said you have a lot of energy!"
I wrote down some of Monique D's lessons about photography -- because they apply to writing too. She told the students, "When you're taking photos, you have to listen to the voice in your head that says, 'Oh this is a good photo!'" She also told them, "The trick in life is to keep looking at thing with fresh eyes." Beautiful, no? Now you know why I love being friends with her -- because she says such cool stuff!
We divided the class into groups so that each Monique would have time to work on her speciality with the students. In my groups, we worked on stories and poems. A student named Emil gave me permission to quote his work here. He was writing about a difficult time in his life -- after he first learned that his mom had cancer (she's dong great now, thank goodness!). He ended his piece with the sentences, "It felt good to write this poem/ I never really shared this with people."
I told the students that when I hear or read something beautiful and important, I get goosebumps. Emil, Molly and Emmanuel, your three stories all gave me goosebumps today. I'm already looking forward to our return visit. Something tells me yours is going to be a wonderful chapter. Thanks to all the kids, thanks to Miss Kim for being so organized, and thanks to Blue Met for giving the Moniques the opportunity to have so much fun!