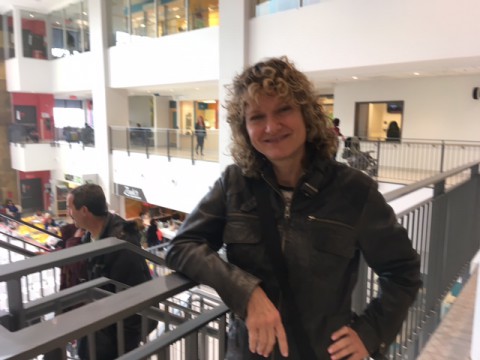 No kids in today's pic -- just me at the Montreal Children's Hospital. I was there this morning to do a mini-workshop. I had four participants, all teens who are being treated at the hospital. But as I explained in the title of today's blog entry, I had maximum-pleasure. What a treat to work so closely with a small, talented group!
As usual, I did my usual: writing tips, stories. I warned the kids beforehand that they would probably need a long nap after they met me! One of them, who has had trouble sleeping lately, thought that was great news! Who knew that I could have a medicinal effect?!!
When I talked about the importance of making writing a habit, "S" (I'm not using any real names in today's blog entry) said that she writes every day. "Farrell" said, "I text my friends rants or else I text them about my dreams." So S and Farrell are already cultivating the habits that could turn them into professional writers. Make sure you back up all those texts, Farrell!
Here's a funny snippet of a mini-conversation we had during today's mini-workshop:
S: Can I ask you something?
Me: You can ask me anything.
S: That's good to know.
That line, "That's good to know" cracked me up. What do you say, S, should one of us use it for a book title: "That's Good to Know"? If I use it, I will credit you!
There was a time for a writing exercise! Yay! I asked the kids to write about a moment of change in their lives. Here's how "Luna" started her piece: "Her eyes examined me. Up and down, up and down." I have to admit I was a little JEALOUS when I read that!! That's because I usually hate the first line I write when I am getting started. But Luna's first line was PERFECT.
And here's a little tidbit to wrap up today's blog entry. If you know me, you know I love to tell the story of the monkey man charm I wear around my neck. I asked the kids if they wanted to touch the charm. "Veronica" didn't want to touch it. In fact, I noticed her giving me a weird look (I suppose it is a little weird if some energetic lady with curly hair invites you to touch her monkey man charm!). But guess what? When I finished telling the story of the charm, Veronica wanted to touch it! That made me happy in a way that is hard to describe here.
So, thanks to Blue Met for sending me to work with this lovely group today. S, Farrell, Luna and Veronica -- keep writing. I feel like the luckiest woman in all Montreal today that I got to work with you!